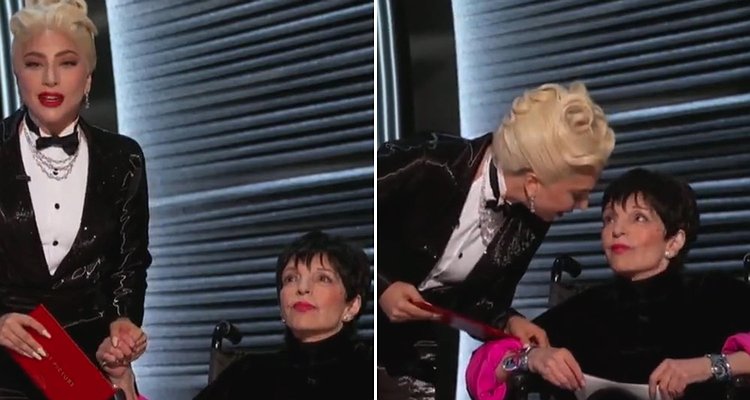 LADY GAGA AND LIZA MINELLI SHARE SWEET MOMENT DURING THE OSCARS: "I GOT YOU"
Helping Liza while presenting the Best Picture Oscar, Lady Gaga told Liza Minelli, "I got you."
In a ceremony overshadowed by Will Smith slapping comedian Chris Rock, a sweeter, more gentle moment also happened courtesy of Lady Gaga and Liza Minelli.
The icons took to the stage to present the Best Picture award (which went to Coda) at the end of the show.
One person said of the moment on Twitter: "In a world of Will Smiths, be a Lady Gaga"
"I got you"
Showing a mutual affection for one another Gaga said "I'm honored to present the final award of the evening with a true show business legend. She's celebrating the 50th anniversary of Cabaret. Oscar-Award winning actress, Liza Minnelli," which garnered several rounds of applause.
But the moment that has warmed everyone's hearts is when after helping Liza with the opening spiel prior to introducing the 10 nominees for Best Picture, Gaga can be heard on a live mic during a cutaway telling Liza: "I got you."
The Cabaret actress replies: "I know".
As the cameras cut back to the duo, Gaga sings a few lines from Cabaret's opening song, 'Wilkommen' before asking if Liza is ready to announce the winner.
"And the Oscar goes to… " begins Gaga before Liza finishes: "Okay, Coda"
Fans adored the moment with one person saying "That made my heart so happy," and another said: "This was delightful and Lady Gaga is so kind."