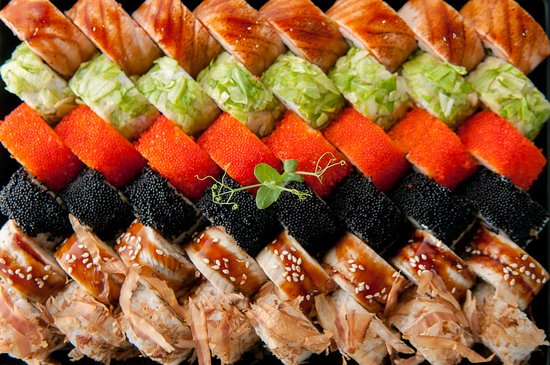 Fussion Sushi
160 Baldwin St
289.707.4872
Kensington Market
Fussion Sushi serves boxes of Nikkei sushi, an alliance of Japanese and Peruvian flavours.
A large Japanese population in Peru sparked a marriage of the two cuisines. Travel through the South American country and you'll find endless shops for sushi made with Japanese techniques and Peruvian ingredients of tropical fish and amarillo peppers.
But the options are limited when it comes to Nikkei restaurants in Toronto. Chotto Matte is known for introducing Japanese-Peruvian dishes to the city with little else offering a more affordable alternative.
This takeout and delivery-only spot in Kensington Market offers sushi boxes of 10 for $11 to $16, 25 for $30, or 40 for $45 with most of their signature 12 maki similar to that of what you'd find in Peru.
The yellow chill (10pcs: $16) is filled with salmon, avocado and cucumber, the spicy yellow pepper sauce made from aji amarillo chili peppers is what gives it a bit of a Peruvian punch.
Plenty of Peruvian dishes centre around a sauce thickened with cream and cheese (think: aji de gallina or papas a la huancaina). Philadelphia (1opcs: $11) reflects that with, you guessed it, torched cream cheese.
Philadelphia with crab meat and avocado shares a box with another roll (10 pcs: $14) with shrimp, cream cheese and homemade passion fruit sauce made from Peruvian maracuya.
Popular in Peru, and therefore a staple maki here is the ACV (10pcs: $15) consisting of shrimp, avocado, a signature lemon mayo sauce and togarashi on top.
A difficult one to eat in one bite is the calamari (10pcs: $16). Crab, avocado and cucumber are wrapped in rice, topped with a special mayo-onion sauce and big chunks of fried calamari.
Sunrice (10pc: $14) has crab and avocado and its sauce is the same as the citrus marinade used to cure the fish in ceviche and its Nikkei rendition: tiradito. Fried sweet potato makes for a crunchy top.
Deep-fried vegetable spring rolls (6pcs: $5.99) aren't anything special but are elevated with sweet passionfruit sauce. Three spring rolls are included in the $12.99 lunch combo along with 10 pieces of ACV sushi and a drink.
Owners Isabella Zanelli and her partner Nicolás moved to Toronto from Lima, Peru over a year ago where Isabella studied at Le Cordon Bleu. They made their own sushi at home for friends before opening here to bring more Peruvian-style sushi options to the city.